Other
Cool Stuff Toys and Video

Cool Stuff has on its website videotapes with the 1966 Kimba episodes made prior to the RightStuf's video release (and, thus, not official), and a large Kimba ceramic figure for sale. You can also check their eBay store for other various Kimba items.
MagicalGirl.com

MagicalGirl.com (Fisheye's Mall) used to have a section of Kimba plushes, as well as other anime plushes and other items. Please check their eBay store.
RightBrain/LeftBrain

Check the RightBrain/LeftBrain's website and its online store at AuctionWorks for various Kimba items (writing boards, tote bags, bath towels, T-shirts, and other sorts of items which vary from time to time) that are official Tezuka Productions merchandise. RightBrain/LeftBrain has an eBay store too, where similar Kimba items can be also found.
Grieco Collection

Here's the text that people at Grieco Collection sent me by e-mail, along with the picture shown to the left:

"Handpainted collectible statues of Kimba and Ryer in synthetic resin, 1000 numbered pieces.
Height Ryer cm. 13 - Height Kimba cm.15 
The two little lions are available in a two-in-one package 
The two statues from the animated series "Kimba, the white lion", from one of the masterpieces by Osamu Tezuka, a world-famous artist, the man who made generations of Japanese dream, are now available.
The story of the white lion grown among men, which becomes a wise and good king as he returns to the jungle, is complicated but fascinating, rich of humanity.
These statues are among the newest products of Grieco Collection, italian firm specialized in 3d reproduction of animated series' and cartoons' characters. The original sample of the two statues is realized by italian artists, with the cooperation, in the various phases of the processing, of the Tezuka Productions designers in Tokyo.
For further information, please dial +39 02 39 26 28 71, or send an e-mail to grieco.collection@flashnet.it
FantAsia Toyz

FantAsia Toyz on eBay used to sell various Kimba posters (mostly 1997 "Jungle Emperor Leo" movie posters) and other anime items.
Eanime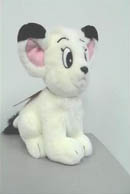 Eanime on eBay from time to time used to sell various Kimba plushes, such as Kimba plush, Kitty plush, Kimba and/or Kitty plushes with picture frame, as well as Kimba and/or Kitty pillows (all of them were made by a japanese company called Sun and Star).



UFO Catcher (NeoToys)

On UFO Catcher's website you could order the 2003 Kimba the White Lion UFO catcher plush (shown left) that was produced by a japanese company called Banpresto, but it was sold out in the meantime. Plushes like these were never available in any store, they were only available as prizes in the claw machines in japanese arcades or amusement parks.
White Lion Shop (White Lion Restorations.com)

Kimba W. Lion managed to brilliantly restore the very first version of the episode of the original Kimba series (titled Little Kimba), as well as the complete Leo the Lion series. Along with these DVDs, you can find there his first Leo DVD with 3 uncut episodes (Leo the Lion - Special Edition), as well as some other stuff. All these DVDs contain uncut and complete episodes, with crystal clear image and crystal clear sound. However, since the owner passed away on October 22, with White Lion Restorations.com disabled the PayPal orders on the unfortunately can't be made.
Tezuka Osamu World official webshop (in japanese)
This is the official website of Tezuka Productions offering items with many Tezuka characters including Kimba/Jungle Emperor Leo. However, since there isn't an english version of the website, you can use online translators like eXcite Japan's to read it, and pages like Celga (middleman service) to order the items.