"Jungle Emperor - Leo's Courage Changes the Future"
Mar 1, 2019
1989 Kimba on TV in Japan
---
It was aired on Teletama (Television Saitama)
Category: Kimba news
Posted by: kimba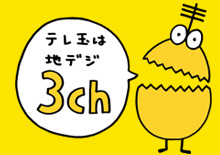 The 1989 Kimba TV series was aired on TV in Japan on Television Saitama. The airing started on October 1st, 2018, and ended in February 2019. It was aired from Monday to Friday at 6:45 PM.
UPDATE: It is also interesting to mention that Saitama is also home to the Saitama Seibu Lions, a professional baseball team whose team logo from 1978 to 2008 and mascot was based on the adult version of Kimba (although Osamu Tezuka had stated that it was based on Panja/Caesar).